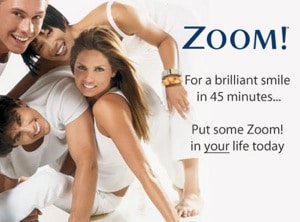 According to the American Academy of Cosmetic Dentistry, whitening is the most requested cosmetic dental procedure in the United States. Dr. Rader estimates that 85% of our patients express interest in having a whiter, healthier smile.
As we age, out teeth become yellow. Its natural, but it is embarrassing. If you smoke, drink coffee, tea colas and red wine, the staining can be even more pronounced.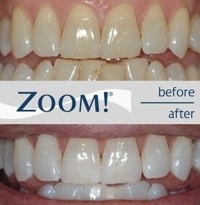 Now you can do something about it. The Zoom! In-Office Whitening System is a revolutionary tooth whitening procedure. It's safe, effective and fast – very fast. In just over an hour, your teeth will be dramatically whiter. Zoom! Whitening is ideal for anyone looking for immediate results. The convenience of Zoom! in comparison to days of wearing trays and gradual whitening makes it the perfect choice for the busy individual.
The Zoom! Light-activated gel was developed after years of research by Discus Dental, the leaders in professional take-home tooth whitening. The gel is a scientifically formulated, pH balanced hydrogen peroxide that, when activated by the Zoom! light, gently penetrates the teeth to remove deep stains and discoloration. With proper care and an occasional touch-up at home, your whiter smile will sparkle for years.
Please refer to Questions & Answers page to learn about the details of this procedure.