If you are like most people, you probably have cavities that have been filled with metal of silver-mercury amalgam. While you probably recognize that such fillings are unattractive in your smile, you might not realize that they are hazardous to your teeth.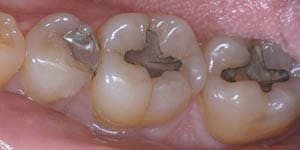 Silver-mercury fillings react to temperature changes, expanding and contracting within your delicate tooth. This environment can weaken the tooth, causing it to break. It can also create a space between the tooth surface and filling that allows bacteria to enter, causing decay.

Fortunately, there are metal-free fillings-composite resins and porcelain restorations that are stronger and safer for your teeth. These restorations are virtually invisible,
For small cavities we use non-metal composite filling for restoration. Blending to the tooth color, composite fillings offer a lasting, attractive alternative to metal. Composite fillings are completed in the office in one visit.
For situations where more of the tooth has been destroyed by decay Inlay/Onlay is a very viable option.

"The facial pain, bruxism and other symptoms I had lived with for the past few years disappeared. And I have a lovely, bright smile as a benefit. Dr. Rader and his team are very professional and provide caring, attentive service. They did a great job of informing me about the procedures, addressing my concerns regarding discomfort and explaining what I could expect. I totally recommend Dr. Rader and his team, particularly to those who are suffering from neuromuscular dental issues like TMJ."